School Library Journal - "This is a versatile book that could be used to introduce children to a variety of topics, from geography to time. In addition to teaching concepts, it reinforces a crucial message of unity by featuring children of all ages and races from around the globe. Illustrating 24 different time zones is no small feat, yet Beckman rises to the challenge. VERDICT A high-quality book for our times, in both its educational and inclusive message."  Katherine Hickey, Metropolitan Library System, Oklahoma City     (For full review, click here >>>  Reviews for AROUND THE WORLD RIGHT NOW)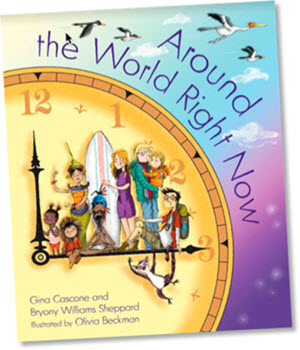 AROUND THE WORLD RIGHT NOW by bestselling author Gina Cascone, and her daughter, Bryony Williams Sheppard, is a multicultural travelogue through each of the 24 time zones. Young readers are invited to travel the world and experience many people, places, and things that exist on our planet . . . right now. In every minute of every hour of every day, something wonderful is happening around our world.
In Santa Fe, New Mexico, an artist sits behind his easel working on a painting. While at the same time in Greenland, an Inuit boy begins training his first pack of sled dogs. While in Madagascar, a playful lemur is trying to steal treats from a family's picnic, just as a baby humpback whale is born deep in the Pacific Ocean.
ALL AROUND THE WORLD is a perfect read-aloud. It introduces geography and time zones while celebrating the richness and diversity of life on our planet.
A book comes to life by Gina and Bree

AROUND THE WORLD RIGHT NOW did not begin as a mother-daughter collaboration.  It was a mother - daughter...daughter collaboration.  It took three generations of brainpower to get this ball rolling.  It all began with the relentless curiosity of a little girl learning to tell time, her mother's overwhelming frustration with the question, "What time is it in China right now?", and her grandmother's great amusement.
The idea struck like lightening...Let's explore time through travel in each of the twenty-four time zones to have a look at what's happening all around the world at the very same moment.  It couldn't be more simple...right?  Well...If you want to discover just how little you know about most things, try doing something simple.  Simple is rarely easy.  But learning about the simple things in life, all around the world is enormously rewarding.
On our quest to answer a simple question, we learned so much about our world and the people who inhabit our wondrous planet.  As we passed through each time zone looking for a place to visit, we often felt that it was impossible to choose just one.  But in the end, with the help of our friends, teachers, our editor and agent, and our "test" readers, we settled on what you see between the covers.  And we were truly blessed to have such a magnificent illustrator in Olivia Beckman. Publishing a book truly takes a village!
We can only hope that AROUND THE WORLD RIGHT NOW might inspire in others the curiosity that was sparked in us, and the desire to keep traveling around the world, whether that be in the pages of a book, or in reality.  When you take the time to have a good look around, you may just stop and say to yourself, "...in every minute of every hour, of everyday, somewhere in the world, something wonderful is happening!"
Thank you for joining us in our journey!
Signup to receive updates from Gina Cascone & Bree Sheppard