April Gives Birth to Wonder and Joy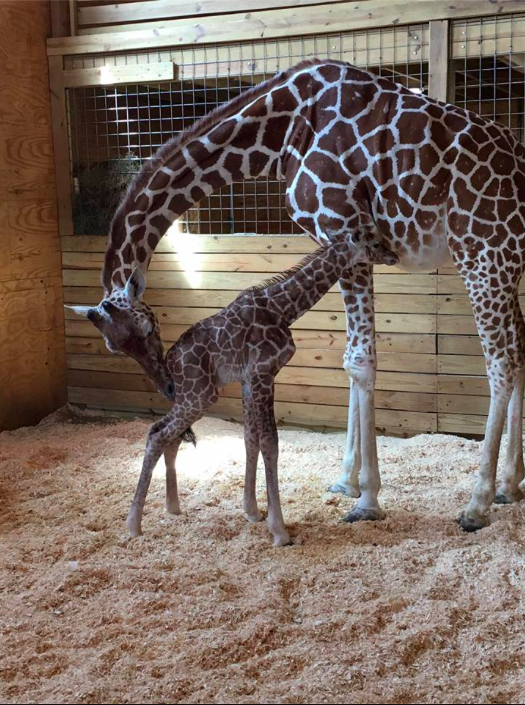 "Do you know about April the giraffe?"  That was how Bree opened her phone call to me on Saturday morning.
"Yes," I answered. "She's going to have a baby."
"She's having it right now!" she informed me with no small degree of urgency. "Get to your computer!"
I was already half-way there. For the next 30 minutes, the two of us stayed on the phone transfixed by the miracle of birth. We were with April, heart and soul. We breathed with her. We pushed with her. We cheered her on.  And when her baby finally came, we rejoiced as if we had done it ourselves.
But we weren't alone in this. As we watched the live feed, a steady stream of hearts, smiley faces, and thumbs-up, danced across the screen. Viewers were checking in not only from all over the US but from Canada, England, and even Australia to watch. All around the world, people were participating in the joy of welcoming a new life, commenting on the beauty and wonder of it all.
It does not get any better than that.  In the northern hemisphere, it is springtime. New life is all around. Spend some time enjoying life's little miracles.
Gina Cascone is the co-author/TV script writer of DEADTIME STORIES (Tor). She has been a writer for 17th Street, Parachute Press, and other series. She has written GHOSTS OF FEAR STREET, ANIMORPHS, SWEET VALLEY JUNIOR HIGH, teen thrillers, and humor books. She is also the co-author of three teen thrillers and the author of two well-received memoirs, PAGAN BABIES AND OTHER CATHOLIC MEMORIES and LIFE AL DENTE: Laughter and Love in an Italian American Family. Her most recent picturebook, AROUND THE WORLD RIGHT NOW (Sleeping Bear Press), is co-authored by her daughter, Bryony Williams Sheppard. She has two grown children, two grandchildren and lives near Princeton, NJ with her husband and three cats.