I Am So Full of Happy Today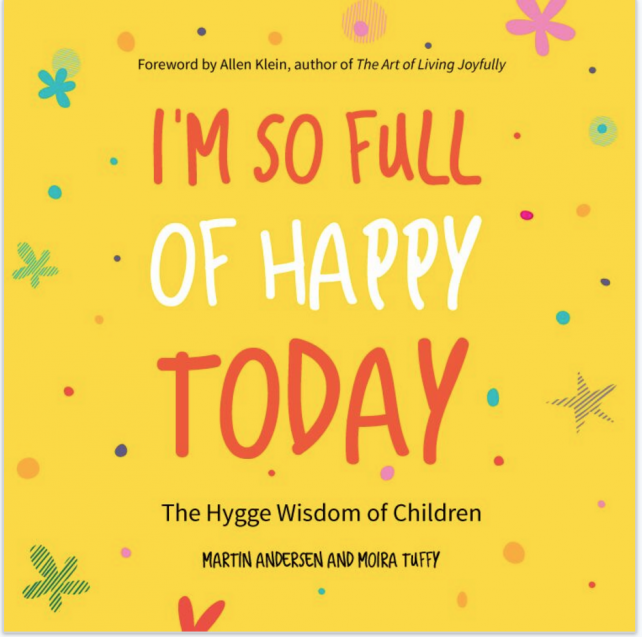 From 1945 to 1969 Art Linkletter had a segment on radio, then on his television show, called "Kids Say The Darndest Things" by asking simple questions and allowing children to answer, unprompted and uncensored, he gave the world a glimpse at the inner workings of a child's mind. The answers he got may have made the parents cringe but the audiences laughed in delight.  That was because the answers were always profound, if only in their innocence.
I was reminded of this when I got a book in the mail this week, co-edited/authored by Moira Tuffy, and Danish game maker, Martin Andersen, titled I'M SO FULL OF HAPPY TODAY: The Hygge Wisdom of Children.  All around the world, children are full of happy from the wisdom that can only be borne of innocence. I invite you to tap into that innocent place that still dwells deep inside you to have a look at the world with child-like wonder again. I guarantee it will make you full of happy too! It's what the world needs right now.
Gina Cascone is the co-author/TV script writer of DEADTIME STORIES (Tor). She has been a writer for 17th Street, Parachute Press, and other series. She has written GHOSTS OF FEAR STREET, ANIMORPHS, SWEET VALLEY JUNIOR HIGH, teen thrillers, and humor books. She is also the co-author of three teen thrillers and the author of two well-received memoirs, PAGAN BABIES AND OTHER CATHOLIC MEMORIES and LIFE AL DENTE: Laughter and Love in an Italian American Family. Her most recent picturebook, AROUND THE WORLD RIGHT NOW (Sleeping Bear Press), is co-authored by her daughter, Bryony Williams Sheppard. She has two grown children, two grandchildren and lives near Princeton, NJ with her husband and three cats.