Have your cake and eat it too!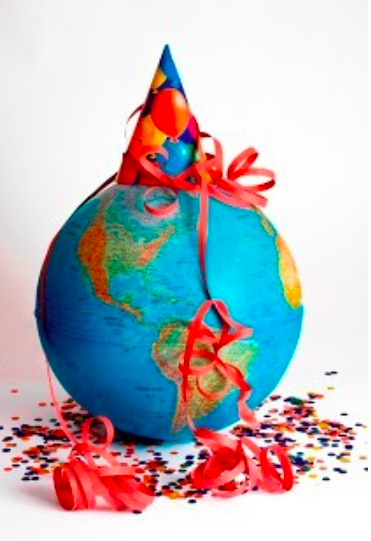 We're celebrating a birthday. And there will be cake!  Curious about how that most glorious tradition began, we did a little research. Turns out everybody wants credit for it. And who wouldn't? In western culture, birthday cake dates back to ancient Rome. It was the Greeks who put candles on cake – on the sixth day of every lunar month to honor the birth of Artemis, the Goddess of the moon.  But it wasn't until the 17th century that German bakers decided that a birthday celebration needed more than honey sweetened bread-like pastry. The multi-layered, iced, and decorated cake was born.
We won't be having one of those. Our 38-year-old birthday boy requested cheesecake, his favorite.  In Australia, a favorite might be "fairy bread", buttered bread with "hundreds and thousands" or, as we know them, ice cream sprinkles.  In Brazil, brigadeiros, a scrumptious fudge ball says "Happy Birthday to you!"  A sweet rice pudding called payesh is the traditional treat served on your birthday in some parts of India  Tres leches wishes you feliz cumpleaños in Mexico.
Whatever sweet treat you choose to enjoy on your birthday, we hope that you will always celebrate your new year as a new beginning in our wonderful world.
Gina Cascone is the co-author/TV script writer of DEADTIME STORIES (Tor). She has been a writer for 17th Street, Parachute Press, and other series. She has written GHOSTS OF FEAR STREET, ANIMORPHS, SWEET VALLEY JUNIOR HIGH, teen thrillers, and humor books. She is also the co-author of three teen thrillers and the author of two well-received memoirs, PAGAN BABIES AND OTHER CATHOLIC MEMORIES and LIFE AL DENTE: Laughter and Love in an Italian American Family. Her most recent picturebook, AROUND THE WORLD RIGHT NOW (Sleeping Bear Press), is co-authored by her daughter, Bryony Williams Sheppard. She has two grown children, two grandchildren and lives near Princeton, NJ with her husband and three cats.