The power of the written word to bring happiness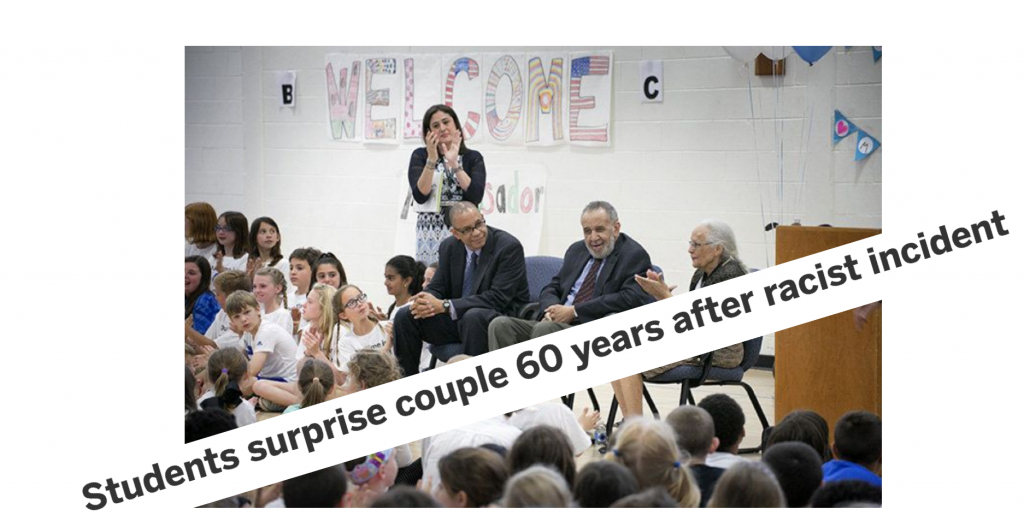 Our local newspaper ran this story on the front page this morning that melted our hearts for many reasons.  The students of Bear Tavern Elementary in Hopewell, NJ were visited months back by a gentleman who spoke of his struggle as an African American man in this country. He talked to the students about marching with Martin Luther King Jr. and how he was able to be a part of the movement. He also told a story that in 1957, 60 years ago, he tried to take his new bride on the honeymoon that he had booked to a lodge in the Pocono Mountains in Pennsylvania, but upon arrival his reservation was not honored because of the color of his skin.
After his visit, one fifth grade class was heartbroken and touched by his story.  After many months, they invited him and his wife back to school but this time a surprise awaited them.  This group of fifth graders wrote letters to another large resort in the Pocono Mountains, one that didn't even exist 60 years ago as the original hotel was no longer there. They told the story of this newlywed couple that did not get the honeymoon that they had so hoped to have.  Letter after letter was sent to the hotel and one reached the desk of the Director of the resort.
Also moved by the story, the director gifted a stay in their largest suite, meals, transportation, and even spending money to the couple for their upcoming 60th wedding anniversary.  The couple was presented the gift by the teacher of the fifth grade class who were determined to set things right, even after 60 years.
Bravo to the staff at the newspaper that felt that this was a story that needed to be told so much that they put it on the front cover of the Sunday paper. Bravo that they celebrated the power of small voices. Bravo that they shared a bit of news to brighten everyone's day. And bravo to the class who proved that even a small voice can have a big impact.
Photo by Michael Mancuso | For NJ.com
Bryony Sheppard, majored in theater education at Emerson College and is currently studying for her master's degree in educational psychology. She is a preschool teacher near Princeton, NJ and spends much of her time coming up with new fun and exciting ways to entertain and educate. When she isn't studying or writing lesson plans, she loves spending time with her husband and two beautiful children.